WALK IT. CHARGE IT. RUN IT.
FUN IT.
The World's #1 Fun Run for ages 7 & Up • Family Friendly • 2.5 Million Cubic Feet Of Foam
#GetFilthyClean
Over $3,100,000 raised for Charity
Current Price $49.99 BEST DEAL EVER ON NOW!
Current Price $49.99 BEST DEAL EVER ON NOW!
Current Price $49.99 BEST DEAL EVER ON NOW!
Current Price $49.99 BEST DEAL EVER ON NOW!
Current Price $49.99 BEST DEAL EVER ON NOW!
Current Price $49.99 BEST DEAL EVER ON NOW!
Current Price $49.99 BEST DEAL EVER ON NOW!
We guarantee you'll be foamy, muddy and wet by the end of the 5K Foam Fest
5k Foam Fest has 22 of some of the best and most exciting obstacles in the world including the worlds largest inflatable waterslide, slip and slides, and mucky mud pits! Combine these with 2.5 million cubic feet of foam that we pump out at each event and you are destined to have a awesome day! Check out the obstacles:
Mud Crawl (certain venues only)
Mud Pit (certain venues only)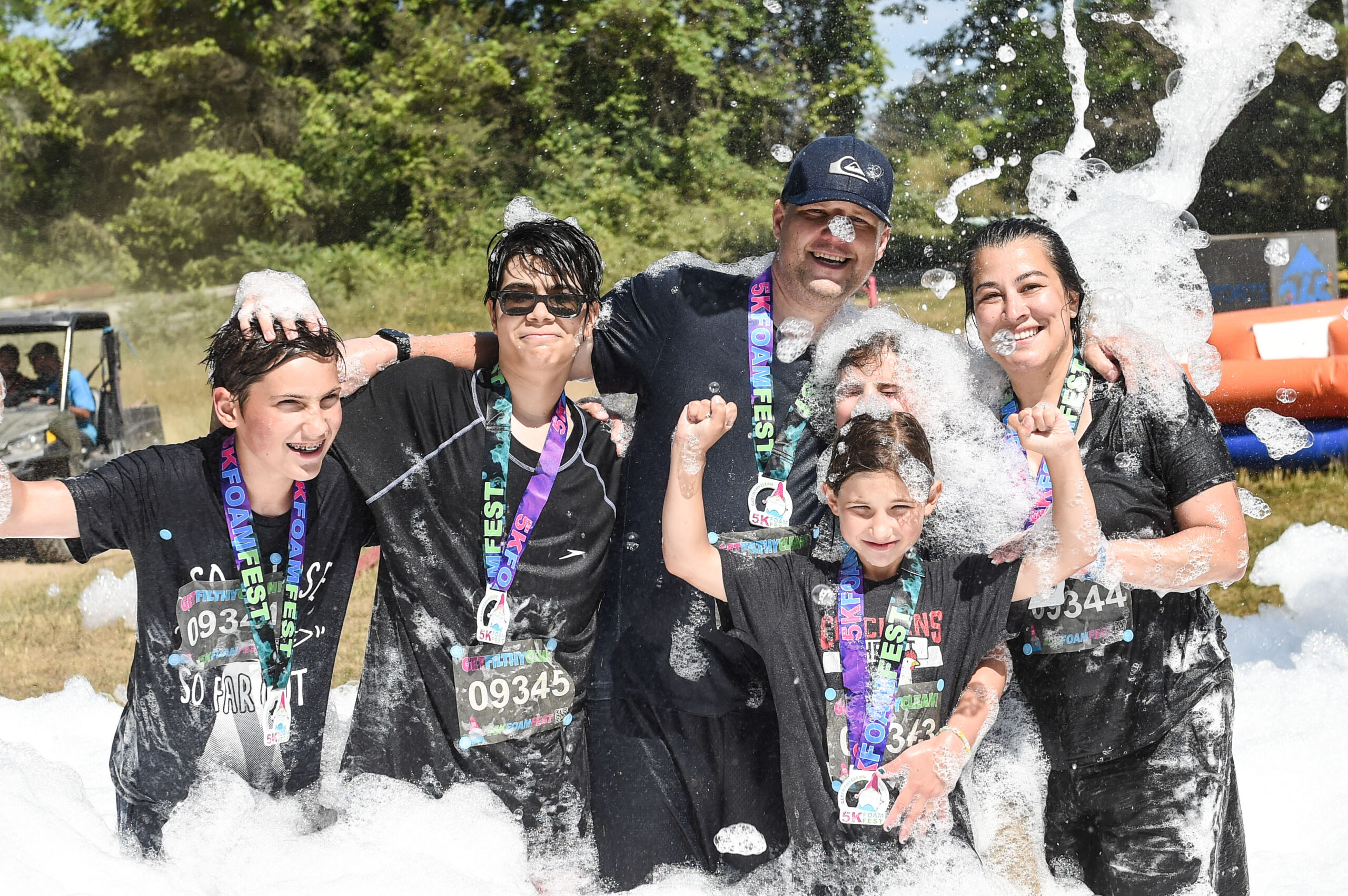 Register your family members for our bundled family pass!
Family pass options are available as a ticket option when registering, no promo code is required. If discovered that you are not immediate family upon check in, you will be responsible to pay the balance of a full day event ticket per person. That can get pricey so please don't cheat 🙂
Military & First Responder Reduced Rates
5K Foam Fest is happy to offer reduced rates to all Military, Police, Fire, EMS, Lifeguard and Coast Guard.
Offer extended to immediate family (Partner/kids) proof of service required.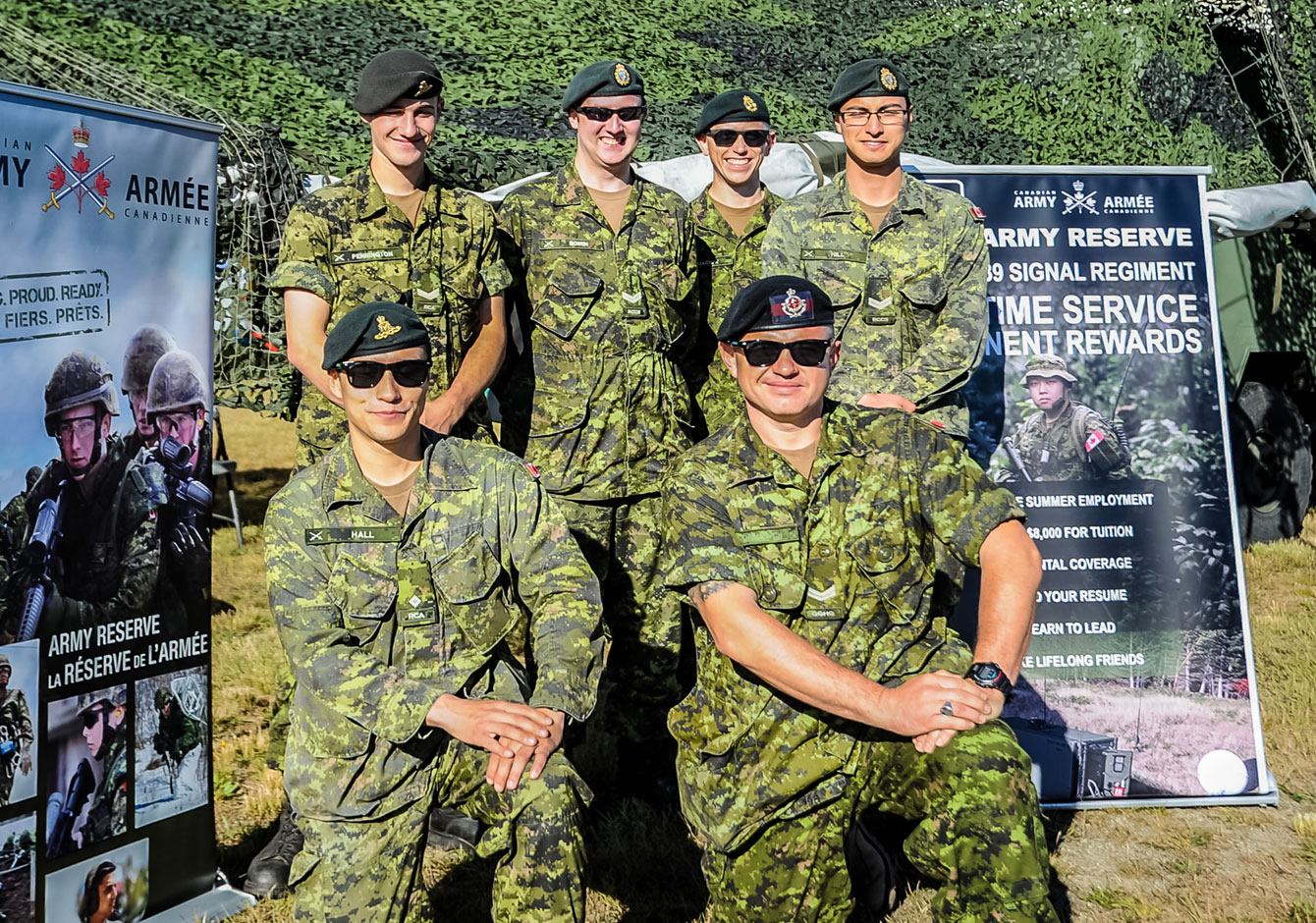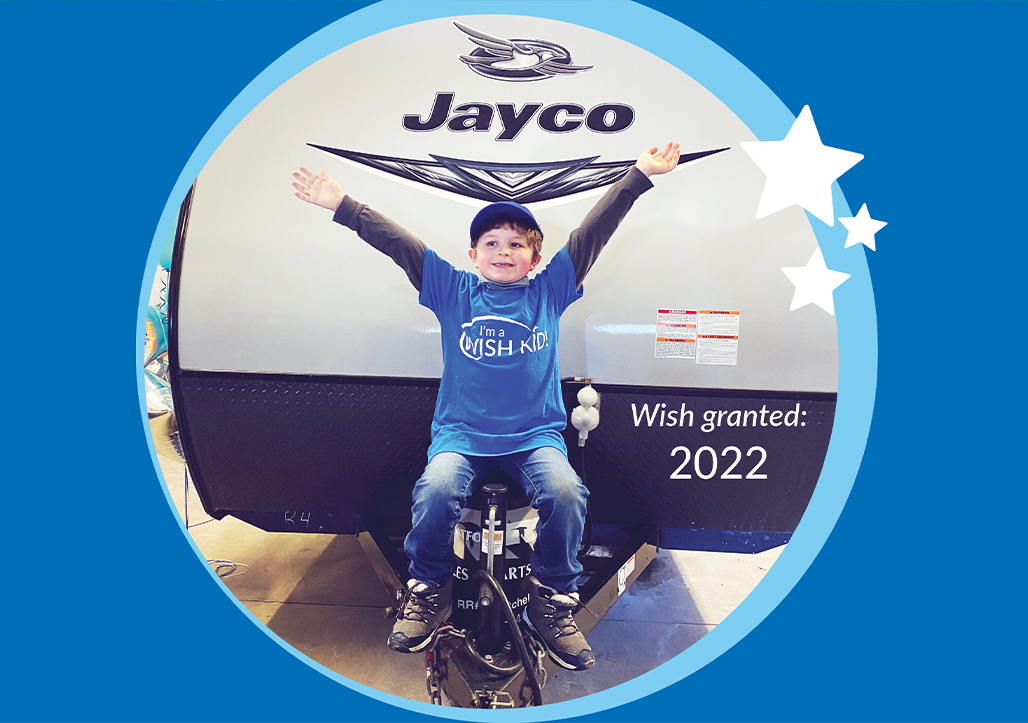 Meet the 2022 Foam Fest Wish Kid Ambassador Bennet!
Your donations help kids like Bennet experience joy, strength and hope when they need it the most!
Thanks to all the #fundraisingfoamies, we've raised over $200,000 from this event to support Make-A-Wish.  Because of your ongoing support, we can help grant life-changing wishes to children with critical illnesses, wishes like Bennet.
Bennet is a seven year old boy who was diagnosed with cancer at a young age. Bennet loves all things outdoor so it was no surprise that he wished for his own camping trailer.
"I love camping and going on cool adventures! And it's like a house" says Bennet. The most important part of Bennet's wish was spending time with his family. Bennet is excited to be the Wish Kid Ambassador for the 2022 5K Foam Fest events across Ontario.
To learn more about Make-A-Wish, please visit makeawish.ca
The 5K Foam Fest is
Going GREEN!
We love our fun, but we love our planet too!
The 5k Foam Fest is implementing some changes to our event to reduce the waste we generate as we work towards a more environmentally friendly experience.
We did The 5K Foam Fest as a family activity. My children are 9, 11, 12 & 13. We enjoyed our experience. Kids are asking to do it again. Thank you to all the organizers who make this event a success! We will be back next year!
My boyfriend and I have done other runs, and so far this is our favorite, we are already signed up for 2017
We had an amazing day and many many laughs. It was well organized and the run is set up for all fitness levels.
SO much fun, Went with my dad, step mom, mother in law and sister in law and we all had lots of fun and are telling everyone its a must do!!
So much fun and the event was very organized...be prepared to have a fun, wet n' muddy time!!
OUR OFFICIAL CHARITY PARTNER
Become a #fundraisingfoamy today!
Register for 5K Foam Fest
Create a Personal Fundraising Page
Overview
About Make-A-Wish
How You Can Help
Overview
Make-A-Wish® Canada Overview
Obstacles are meant to be overcome. Support Make-A-Wish® Canada to help transform the lives of children in your community.
365 Sports is excited to team up with Make-A-Wish® Canada, the official charitable partner for the Canadian 5K Foam Fest tour in 2023. This partnership is a great opportunity for Canadian families to help other families in need, in a fun and impactful way!
You can help support children with critical illness by participating in the 5K Foam Fest and raising funds for Make-A-Wish. So how do I get started? As soon as you have registered for Foam Fest it is time to start your fundraising team. We have some great prizes for top fundraisers and top teams!
Make-A-Wish will receive all money raised through participant fundraising and all revenue generated from the Make-A-Wish gear check on-site.
About Make-A-Wish
About Make-A-Wish Canada
Make-A-Wish® creates life-changing wishes for children with critical illnesses. We are on a quest to bring every eligible child's wish to life, because a wish is an integral part of a child's treatment journey. Research shows children who have wishes granted can build the physical and emotional strength they need to fight a critical illness.
As an independently operating affiliate of Make-A-Wish International, Make-A-Wish Canada is part of the network of the world's leading children's wish-granting organization. We serve children in every community in Canada, and in more than 50 countries worldwide. Since 1983, Make-A-Wish Canada has granted over 37,000 wishes across the country, over 1000 last year alone.
For more information about Make-A-Wish Canada, visit makeawish.ca.
How You Can Help
How You Can Help
Sign up for 5K Foam Fest today and then create your own individual or team fundraising page here. Personalize your page and start fundraising today! All proceeds will support Make-A-Wish. You have the power to make a difference in the lives of local children.
To learn more about Make-A-Wish, please visit makeawish.ca. If you have questions about your fundraising page or need ideas to raise money, please email nationalevents@makeawish.ca
To make a general donation to Make-A-Wish click here.
Interested in
Volunteering?
Interested in
Food Vendor Opportunities?
we have raised over 2 millions dollars to date for amazing charities in need!