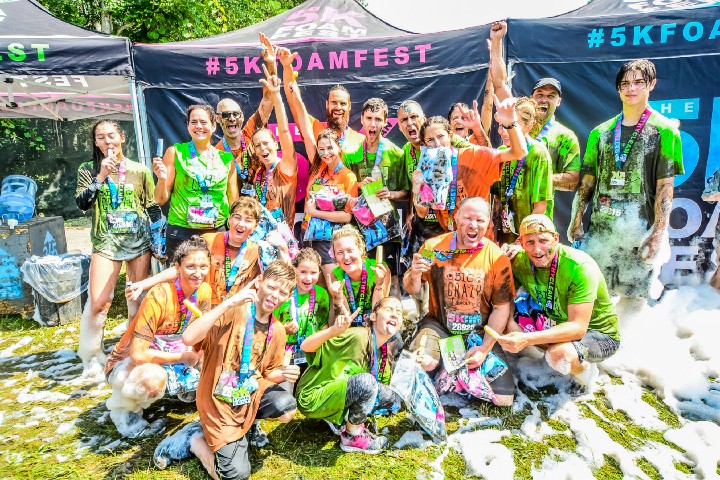 Looking to get your family active and outdoors this summer? Look no further than the 5K Foam Fest! This fun-filled event is perfect for people of all ages, and features obstacles and challenges that will test your strength, agility, and endurance. If you're thinking of getting the whole family involved this year, then you may be wondering about the Family Pass. What is it? How does it work? We're here to answer those questions and more! In this blog post, we will explain everything you need to know about the 5K Foam Fest Family Pass, including pricing and benefits.
What Does the Family Pass Include?
The Family Pass includes individual race entries for each participant, and is available for families of 4 or more. In addition to the race entry, each member of your family will receive the same things that the Individual passholders do, including:
String bag
Buff
Finisher's medal
Runners bib
Bib buttons
Foam Fest tattoo
FREE event photos for download
Access to water stations, shower stations, change rooms festival area, free kids zone
As you can see, you get so much more than just a race entry when you sign up for the 5K Foam Fest!
How Much is the Family Pass?
You can get all of the above for CA$199.96. This comes out to $49.99 per person based on a minimum of 4 participants. With the current prices from about $59.99 — $64.99, you're saving money going the Family Pass route!
Do I Need a Promo Code?
No promo code is required to take advantage of this offer. Simply select Family Pass as a ticket option when you go to register for the Fest. It's that easy!
Do Children Receive an Additional Discount?
The full 5K Foam Fest experience is open to everyone 7 and up, so all participants that fit within that age range are charged the same price. You know the kids are going to want to do and receive everything that the adults do anyway!